ABOUT AOBAJUKU DOJO

AOBAJUKU DOJO

OFFICE  AOBA KYOIKU KIKAKU CENTER
3-2-1,FujiParkBldg.2F,Susukino
Aoba-ku,Yokohama
TEL 045-902-1808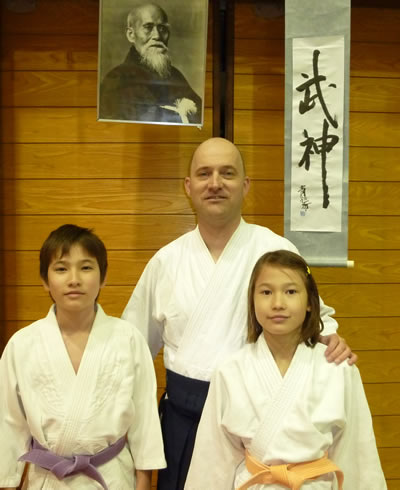 Aobajuku Dojo was founded 36 years ago and is lead by instructor Yasuo Honda (7th Dan).
Our Dojo is affiliated with Aikikai.
It contains a youth- and general section, both training at the same time regardless of age. You will see 3rd Dan and 4th Dan holders training with kids as young as 4, and often both kids and parent(s) are enrolled in the Dojo.
| | | | |
| --- | --- | --- | --- |
| Day | Frequency | Duration | Content |
| Saturday | Weekly | 18:00-20:00 | Basic body movement, Aikido techniques, basic Tachi and Jo techniques |
| Thursday | Weekly | 18:30-20:30 | Advanced Tachi and Jo techniques |
| Sunday | Per schedule | 14:00-16:00 | Basic body movement, Aikido techniques, advanced Tachi and Jo techniques |
*Timing and frequency may change from time to time
** Tachi and Jo: wooden sword and stick
Yearly highlights are participation of our Dojo at the All Japan Aikido Demonstration, The Children's Aikido Training Meet (both at the Nippon Budokan), the yearly Demo at our own Dojo and the Summer Camp in August with its temple stay and Zen exercise.
Please see the videos on the top page for an impression.
Trainings are conducted in Japanese, but seeing is doing!
A number of foreigners are training at Aobajuku Dojo; we have had Englishmen and women, Germans and Russians. Currently we have an Algerian and a Dutchman (who took his 1st Dan at our Dojo.
The social activities of our Dojo are also well organized with 4 seasonal get-togethers linking in with traditional Japanese customs.
It is a great way to get to know Japan and the Japanese better.
If you'd like to come and have a look, please call the admin center for an appointment:
TEL 045-902-1808
Vincent Zwijsen
22th All Japan Aikido Boys and Girls Rensei-Taikai
48th All Japan Aikido Demonstration
4th Aoba Budou Demonstration
August,2009 Aikidou Gashuku
31th All Japan Aikido Boys Rensei-Taikai